August 30, 2021
Introduction
With many benefits from the 19c on Oracle Standard Edition upgrade, now is a perfect time to evaluate and plan your upgrade if you're on an earlier version of the Oracle Database. Besides the obvious benefit of going to a fully supported version, 19c for Oracle SE also introduces some new features that can enable database consolidation and cost optimisation. Read on to find out about the benefits of 19c on Oracle SE.
This blog is part of our series of blogs around the Oracle 19c upgrade:
Reduce Costs and Get Access to Oracle's Full Premier Support
The most important reason, and cause for the renewed interest in 19c is that extended support for 11g and 18c has ended, while 12c will end in July 2022. Moving onto 19c, the latest long-term version, reduces your support costs and ensures you receive the latest security updates.
· 19c has premium support available until April 30th 2024 (as at May 2021) and extended support until April 30th 2027.
· Stop paying 'Extended Support' costs.
· Receive security alerts and upgrades that are often key for compliance.
· Access software updates, patches, and scripts.
Database Releases and Support Timelines from Oracle (As at May 4th 2021)
Source: Release Schedule of Current Database Releases (Doc ID 742060.1)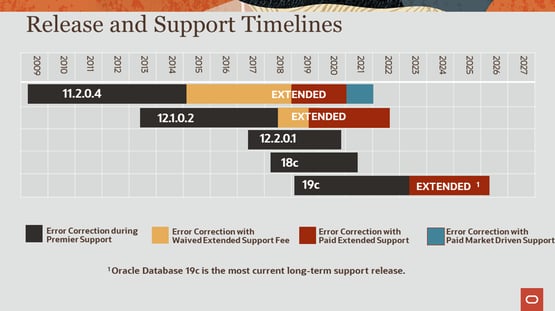 Utilise New Features and Enhancements Included in 19c for Oracle SE
Spatial & Graph functionality, EZConnect plus enhancements, and multi-tenancy functionality are all key features that can be accessed by moving to 19c.
· Machine Learning, Spatial & Graph includes features for spatial data and analysis, and for physical, logical, network, social and semantic graph applications.
Use cases include: processing and analyzing all types of spatial data in business applications GIS and operational systems; using graph analysis to discover relationships in social networks, detect fraud, and make informed recommendations; and building and deploying machine learning models for predictive analytics.
Further details here: https://blogs.oracle.com/database/machine-learning,-spatial-and-graph-no-license-required-v2
· EZConnect Plus is a significantly enhanced connection string syntax that reduces the need for external configuration files. This makes it easier to use features such as TLS connections, connection timeouts, and tune network buffer sizes.
· Multi-tenancy with the inclusion of up to 3 pluggable databases in one container. More on this below.
Ease Database Management Using Oracle Multitenant
Oracle Multitenant has been included in 19c, bringing significant database administration benefits.
· Manage many databases as one. This includes patching, backup, security, and even online relocation.
· Little effect on applications - each database consolidated or 'plugged in' to a multitenant container looks and feels to applications the same as for pre-multitenant Oracle databases.
· By consolidating multiple databases into a multitenant container, many pluggable databases can share the container memory and processor resources.
Optimise Licensing Costs
There are opportunities for customers to optimise their licensing costs by consolidating databases using the new Multitenant support. Furthermore, the use of SE2HA (Standard Edition High Availability) for failover can be set up without additional licensing.
· Utilize Oracle Multitenant for Consolidation – Up to 3 pluggable databases are allowed per Oracle SE license enabling consolidation within a container.
· If you are using RAC for High Availability (HA), moving to SE2HA on 19c can be done without additional licensing when used within the 10-day failover rule. For more details, read Oracle's licensing document. But remember, neither of these HA solutions offer Disaster Recovery functionality.
An Easier Upgrade
It is possible to upgrade to Oracle 19c directly from 11gR2, 12cR1, and 18c releases. This is a significant cost and time saving proposition that often goes undiscussed. The best upgrade method will change based on your individual situation but in general, the sooner the upgrade, the smoother the process.
Upgrade Planning is the Perfect Time to Review Your Disaster Recovery Plan
For most organisations, the RPO and RTO that can be achieved with backup solutions is no longer fast enough, and the resilience of High Availability solutions is no longer high enough. A Disaster Recovery solution like Dbvisit Standby for Oracle SE is needed.
Disaster Recovery Offers Excellent RPO, RTO and Resilience

Disaster Recovery solutions prioritise data integrity so that your data is available no matter what disaster occurs. Dbvisit Standby provides excellent RPO (minimal data loss), RTO (little downtime), and resilience for all disaster types.
As you plan your upgrade, evaluate your current RPO and RTO performance across different disaster types. If there is a gap between your organisation's needs and current performance, you can easily and affordably add Gold Standard Disaster Recovery, with Dbvisit Standby, to complement your existing backup solution or replace in-house scripts.