August 16, 2021

In the previous blog, we touched on the similarities and differences between Oracle RAC and Oracle SE2HA. A fundamental weakness of both is that neither offers Disaster Recovery (DR) functionality.

If you're unsure your current solution will meet your future requirements, now's a perfect time to review your DR plan (DRP). A DRP helps evaluate how much time (RTO) your business has to quickly re-establish access to data, applications, and IT resources after an outage and how much data (RPO) it can afford to lose.

In the following article, we discuss the need and benefits of a DR solution and how you can expand your SE2HA cluster with DR functionality.

SE2HA and RAC Do Not Provide DR Functionality
To provide businesses minimal disruption at a reasonable price, High Availability (HA) solutions, like RAC and SE2HA, prioritize application availability and fast switchover upon node (server) failover over resilience and data integrity.

Due to shared storage requirements, these HA solutions do not protect against storage issues, including human error, serious hardware failures, data center outages, or natural disasters, resulting in many hours of lost data and multiple days of downtime.

Diagram of SE2HA Architecture and the Single Point of Failure: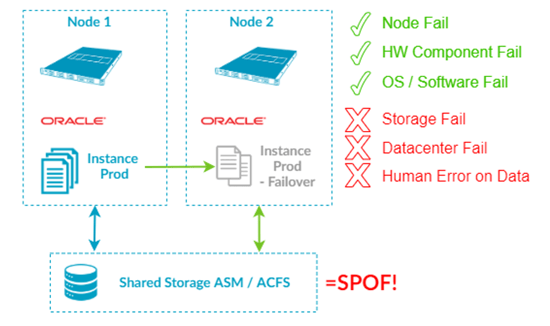 Why You Need Disaster Recovery Functionality
With High Availability, a major failure can result in considerable downtime and lost data. You may need to find a new production site, and backups would need to be restored and tested, resulting in a high RTO (downtime) and RPO (data loss).

To achieve both an excellent RTO and RPO, as well as continuous data protection, businesses would need to create a remote standby database. For companies on Oracle Standard Edition (SE), Dbvisit Standby (DR solution) enables the automated creation, synchronization, and management of the Standby databases.

Benefits of a Disaster Recovery Solution
A complete Disaster Recovery (DR) solution prioritizes data safety and integrity, so your data is always available no matter what disaster strikes. With a DR solution, you can enable an excellent RPO and RTO, but also strong resilience to all disaster types.

By lowering your restore times and meeting your RTO and RPO, you can limit revenue losses and any related costs due to damage caused by the disruption.

Disaster Recovery for Oracle Standard Edition Databases
Dbvisit Standby is a robust and cost-effective DR solution that provides automated operation and failover with an RPO of a maximum of 10 minutes and an RTO of a few minutes. Similar to Data Guard on Oracle Enterprise Edition, it uses physical replication to provide complete DR.

With Dbvisit Standby, you can effortlessly create, synchronize, and administrate your standby database(s). The warm standby server is usually in a remote geographic location, or the cloud, creating a highly resilient architecture.

Considered best practice physical replication for Oracle Standard Edition and built on top of the proven Oracle redo/archive logging mechanism, over 1400 customers in more than 120 countries trust Dbvisit Standby.

For organizations wanting to deliver the highest levels of availability across many disaster types, solutions need a combination of High Availability (HA), Disaster Recovery (DR), and backups. In this architecture, HA ensures that the system continues to operate after the failure of individual components. DR ensures continued availability in the event of a "disaster" or complete failure of the production site.

An architecture utilizing SE2HA technology for High Availability and Dbvisit Standby for DR: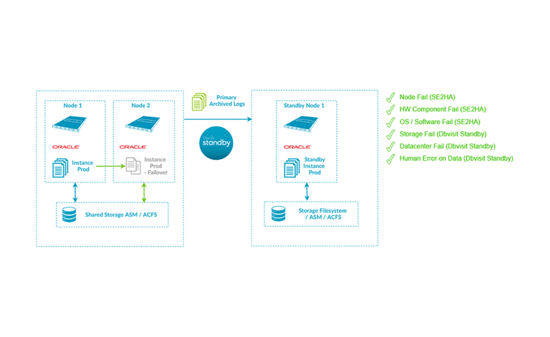 Conclusion
Because neither SE2HA or RAC offers Disaster Recovery functionality, it is essential to review your disaster recovery plan to see if your solution meets your RTO and RPO requirements across all disaster types. For most businesses, the RPO and RTO of using a HA solution and backups no longer meet business continuity needs.

With Dbvisit Standby, a high-performance and resilient DR solution for Oracle SE, you can achieve automated operation and failover with an RPO of a maximum of 10 minutes and an RTO of a few minutes.

You can also easily combine High Availability (HA) and Disaster Recovery (DR) and backups to achieve the highest levels of availability across many disaster types.

Journey to a High-Performance, Highly Resilient 19c Oracle SE Solution
As mentioned above, check out the rest of our blog series outlining the benefits of 19c, the upgrade path for RAC customers, and upgrade methods:

Upgrade to 19c on Oracle Standard Edition
What's the Difference Between Oracle RAC and Oracle SE2HA? (Part 1)
Add Resilience to Oracle SE2HA (or RAC) Clusters with Disaster Recovery (Part 2) (You're Here)
Database Upgrade Methods to Oracle 19c
Why Oracle 19c?