July 17, 2018
Why You Should Consider Oracle Standard Edition 2
Does Oracle Database have more than one edition? Yes, I know it has been like this for many years, but I think it is worth pointing this out again. When looking at the Oracle Database - there are actually a few options available to you. Some might not actually know this, as the only option they might be presented with by default could be Oracle Enterprise Edition (EE). Don't get me wrong, it is an amazing solution with a plethora of options. But it does in fact, as I always say, have a little brother – Oracle Standard Edition 2, which actually is worth looking at. It might not have all the features - or bells and whistles as some say; but it is feature-rich and at the core still, an amazing database edition which if you look closely, it could be the right fit for you.
Oracle Database Standard Edition 2
Oracle Database Standard Edition 2 (SE2) can be licensed and used on servers with a maximum capacity of 2 CPU sockets. There is no limit to the number of cores. It is important to note though that Oracle Database Standard Edition 2 automatically limits the maximum number of CPU threads to 16 at any one time. To some, this might be seen as a limitation, but for most this should be more than sufficient to run workloads - especially if later faster CPU models are used. One important thing when the initial version of Standard Edition 2 was released was that it came bundled with Oracle Real Application Clusters (RAC). This unfortunately has changed since Oracle released the 19c update. As of 19c, Oracle Standard Edition 2 does not include the Oracle RAC option, which was a big shock to most of us. However, since the release of SE2 and the limitations on 16 threads using Oracle RAC with SE2 became a less attractive option, many new installations of Oracle SE2 tend to be more single instance than Oracle RAC. Plenty of companies that still had the Oracle Standard Edition (SE) option (usually running 11.2.0.4 database patched version) which allowed up to 4 CPU sockets with no thread limitation, started looking at keeping this more long term. Short term this might seem like a good plan while you review the options going forward. It is recommended to make sure you have a support agreement in place - and always keep an eye on this Oracle support note: Release Schedule of Current Database Releases (Doc ID 742060.1).

In this document, you can see the support timeframes as well as when extended support ends. As you will notice, 11.2.0.4 now has Error Correction with Paid Market Driven Support till the end of 2021. Below is just an image indicating the support timelines as of Feb 2020, but please do keep in mind this can change.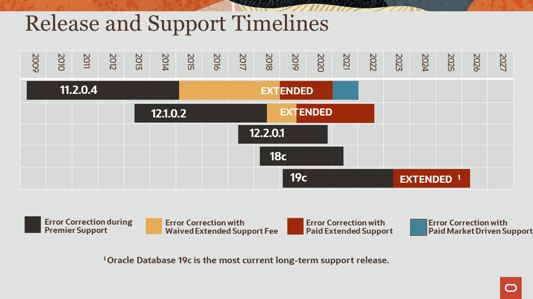 Now if you are looking at achieving a highly available solution for your Oracle SE2 configuration, don't worry, there are still a few excellent options available to you. If you have the Oracle Linux with a support agreement you get Oracle Clusterware for free! This means you can install Oracle Clusterware, and if you think outside the box - run your Oracle Database as an Active Passive solution on Oracle Linux and Clusterware! This is a great option to achieve higher availability for your Oracle SE2 solution. But why stop there when you can add a DR solution in place too using Standby™️, which fully supports the above mentioned configuration. Together these options can meet some of the most strict RPO/RTO requirements. We do have a blog regarding using Oracle Linux and Oracle Clusterware together with Standby™️ which takes you through the details of how this can be configured. But let's get back to Oracle SE2.
Licensing
Taking a brief look at licensing, the model has not changed much over the last few years. Yes, Cloud pricing is now an option where depending on where you go you might pay for the license included in your subscription - usually hourly or monthly; or you could bring your own (BYO) license. The key license options are per Named User Plus (NUP) or per Processor (sometimes referred to as per Oracle Processor).
Named User Plus
In summary, you can identify and count the users that will be using the Oracle Database. Note this includes both human and non-human devices. All of these users should be licensed. It is important that the minimums are met, which for Oracle SE2 is 10 Named User Plus (NUP) per server.
Processor
If using EE, you will have to look at the Processor Factor table and depending on how many cores are used on a CPU socket, you can calculate how many Oracle Processor licenses are needed. But for Oracle SE2 this is much simpler, you are limited to 2 Sockets in total. Besides that, it does not make a difference how many cores per socket! I really like this. There is no factor table and it is pretty easy to get the cost. There is no looking at individual users - but just purely looking at CPU sockets - nice!
Without going into details for licensing and cost, if you do not need the excellent EE features - which you might be surprised to find that many don't, you can save a lot of money by using Oracle SE2 instead.
Additionally, did you know that Oracle SE2 is now fully supported on the Oracle Database Appliance - yes it is!! By using Oracle SE2, you could possibly even pay as little as 25% of the EE price (depending on the configuration and whether or not Oracle RAC is used). If you do not need any of the EE features of course. And yes, this can also lead to big savings in yearly support fees.
Backup and Recovery
Many might think good backup and recovery solutions are only available in Oracle EE, but do not be fooled. RMAN which is one of the most powerful Oracle Database Utilities is included and part of Oracle SE2. You do have two limitations when using SE2 which you do need to be aware of and these are that you cannot use parallel backup options and block change tracking is not available which will help speed up incremental backups - but again this might not be a limitation in your environment.
Another option that might surprise you is that some Flashback options are available in Oracle SE2 - these include Flashback Query and as of 12c, Flashback Data Archive (FDA). If you are not familiar with these it might be worth a look as they are good features.
Disaster Recovery
Did you know that even with Oracle SE2, Disaster Recovery - or let's say "Standby Databases", are still possible. YES - Oracle SE2 can be used for this scenario - and this is where Standby™️ can help you achieve this easily within a short timeframe all without any hassle. Don't worry if you are using ASM, Oracle Managed Files (OMF), or even Oracle RAC and as mentioned Oracle Clusterware configured in an Active/Passive configurations - Standby™️ supports all of these and it can even help you create the standby database.
Now there are many options available with regards to Disaster Recovery - you could make use of Oracle SE2 together with Standby™️ in any of these types of configurations:
On-Premises to On-Premises - where both the primary and standby site are located on-premises
Hybrid Cloud Solution - where either the primary or standby site is on-premises and the other site is in the Cloud
Full Cloud-Based Solution - where both the primary and standby site are located in your selected cloud provider
Inter-Cloud Solution - where your primary and standby sites are located in two different cloud providers
Now I can continue writing about this more and more, but think it is a good time to summarize and highlight a few key reasons to still consider Oracle Standard Edition 2:
Oracle SE2 is proven database technology

Affordable cost of ownership

The price tag is truly attractive

The Oracle RAC option is available at no charge with Oracle SE2 up until 18c

From Oracle 19c the Oracle RAC option is no longer available - but do keep in mind you can still use Oracle Clusterware with Oracle Linux to create an Active Passive cluster that can run on your Oracle SE2 configuration, with Standby™️ for Disaster Recovery planning

Disaster Recovery with Oracle SE2 is still possible - using standby database technology

Even though Automatic Workload Repository, performance and tuning diagnostic packs are not available in Oracle SE2, there is still a large amount of options available to you such as Statspack and various other 3rd Party applications

.
For more detail, please see the Why Not Oracle Standard Edition 2 whitepaper.
In summary, do not forget about Oracle SE2 - it is still there and it can be a good fit for your next project.