August 19, 2021
Vijayganesh Sivaprakasam
Oracle's Multitenant Architecture
The recently released Standby™️ v10 includes full support for Oracle's multitenant architecture. This blog runs through some of the benefits of Oracle's multitenant architecture on Oracle Standard Edition that has been available since version 19c.
Benefits of Oracle Multitenant:
1. Database consolidation:
By introducing a max of three pluggable databases (PDB's) per multitenant container database (CDB) in Standard Edition, applications running in different databases can be consolidated under one CBD for efficient resource utilisations and overall security. In addition, this consolidation enables infrastructure cost savings through reduced hardware and software footprints.
2. Ease of maintenance:
Instead of managing three separate databases, everything can be consolidated under one CDB. In addition, patching, backups, configuration, and upgrades are done centrally under a single Oracle home rather than on individual Oracle homes.
3. Development and testing flexibility:
Instead of waiting for environments, the DBA's can provision individual PDB's in their testing environments and save time for testing and development teams.
Standby™️ v10 Automates Pluggable Detection and Replication
Now let's look at what Dbvisit brings to the party! Standby™️ v10 supports up to three pluggable databases on one Standby™️ license to deliver even greater value. The process to add a pluggable database is also smooth, with any new pluggable database added to primary automatically refreshed in the standby. This is all automated without any additional manual steps or hassles.
By default, whenever an archivelog file is sent from primary to standby, the process detects a new PDB, and a backup of the PDB is taken from the primary and transferred to standby. When the archive log application process kicks in, the PDB is restored, and the archive logs are recovered.
This feature avoids the need to recreate the standby database whenever new PDB's are added to primary. The support is for up to three PDB's in the primary. Our documentation explains the process in detail.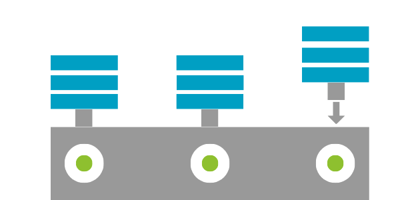 Further, Enhance Reporting and Testing with Standby™️'s Snapshot functionality
One of the highlights of Standby™️ v10 is the integration of Reporting Replicas and Test/Dev Snapshots.
Customers can use the Snapshot functionality for reporting purposes or to quickly spin up test/dev environments with fresh production data, which previously could take days to coordinate with Dev and Testing teams. Please view our Snapshots product page to learn more or our documentation for a more technical overview.
Thank you!