August 12, 2021
Tim Marshall
Standby™️ Version 10 Release
Standby™️ has established itself as the Gold Standard for protecting a business's most critical and sensitive asset – the data in their databases. Today Standby™️ is the industry's most trusted commercial solution for Disaster Recovery of Oracle Standard Edition databases in over 110 countries.
In this blog, learn all about the new features and their benefits.
Standby™️ Delivers More Than Disaster Recovery (DR), It Delivers Database Continuity
Gold Standard Database Continuity is more than best practice DR. Standby™️ delivers continually verified standby integrity, proactive risk reduction, task automation, DR testing, and tools to maximise primary database performance.

Standby™️ v10 builds on this by delivering four key features to provide further protection, value, and performance enhancements to maximise customer investments in their Oracle infrastructure – (1) Multi-tenancy support, (2) Snapshots, (3) GUI improvements, and (4) An upgraded network utility.
Multi-Tenancy Support for up to Three Pluggable Oracle SE Databases Within a Single License
Pluggables are now supported, including the seamless addition or removal of pluggable databases after the standby database has been created. This functionality and the ability to run up to three pluggable databases on a single Standby™️ license provide greater flexibility and value.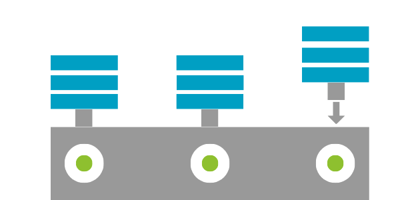 Reporting Replicas & Test/Dev Snapshots Enable Utilisation of Standby Infrastructure to Improve Primary Database Performance
Reporting Replicas and Test/Dev Snapshots have been integrated into Standby™️ on Linux. Reporting Replicas allow you to offload reporting to your Standby database while ensuring you always have fresh data to report on.
Test/Dev Snapshots allow you to create test/dev environments from your standby in minutes. These can then be shared with internal teams for product lifecycle testing or used for non-destructive DR testing. Learn more about Snapshots.
More Streamlined Central Console
Standby™️ v10 features a highly responsive and intuitive user interface – no one makes it this easy!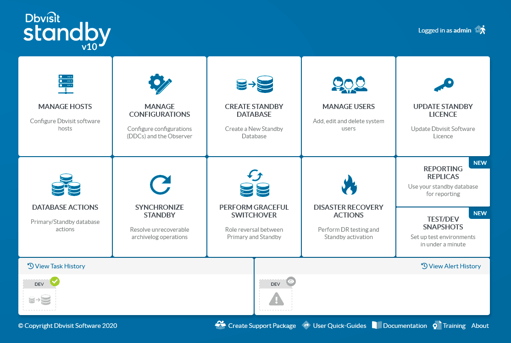 Improved Handling of Unstable Networks and Automated Resolution of Remote Execution Errors
An improved network management utility better handles unstable networks and performs automatic resolution of remote execution errors. As part of the new utility, an all-new logging system ensures accurate and timely detection and information on potential network problems allowing faster issue resolution. The result is an even more resilient DR solution.
Explore the New Features Now!